Services
::

Organic Search Engine Optimization
Did you know...
"Organic search engine optimization campaigns offer several distinct advantages over pay-per-click advertising campaigns, as many recent studies have shown."
"Studies are beginning to indicate that the trust level for organic results is much higher than that of paid results, and that paid results are looked upon as a nuisance by some searchers. One study found that only 14 percent of searchers trust paid listings, and 29 percent report being 'annoyed' by them. Another study found that 66 percent of customers distrust paid ads. Clearly, it's not generally a good idea to upset potential customers before they even click on your link."
SOURCE:
Site Pro News
September 2006
Position is Power... Power is Presence!
There are so many different words used today to describe organic search engine optimization; SEO, organic SEO and website promotion are just a few of the most common terms. These labels change almost as rapidly as the major search engines change their algorithms.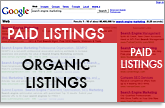 Organic or organic search engine listings are links to sites that are displayed in the main body of the search engine results page (SERP). The search engines do not charge a fee for natural or organic listings. Depending on your business model, market and goals, your site may generate a greater return on internet investment (ROII) with organic SEO, as opposed to paid search marketing, also known as pay per click (PPC).
When using organic search engine optimization methods to promote your site, keep in mind that search engines periodically change their algorithms and align or merge with other search engines with no notice. These changes can have a huge impact on how your site is indexed. Your competitors' sites can also have an effect on how your site is ranked.
Sound confusing? No need to worry. It's our job to keep up with these changes, reflect them on your site and deliver the results to you.
Our Organic Search Engine Optimization services include...
Initial Consultation


In this interview we will discuss your business model, goals and target audience.




SEO Site Analysis and Review


Your site will be reviewed from the perspective of organic search engine optimization geared towards your target audience. We will be looking at the following in particular:


Web Site Navigation
Site Copy Analysis
Programming and Construction of Each Contracted Web Page
Link Placement
Link Validation
HTML Validation
CSS Validation
Optimization of Flash Driven Sites



Keyword Research and Analysis


We use a comprehensive process to determine which keywords are generating the most traffic for your targeted market.




Competitive Analysis


A competitive analysis is used to determine which keywords and organic search engine optimization tactics your top competitors are using to achieve their high rankings.




Preparation of Tags and Text


Strategic tags and text based on the results of the keyword research and competitive analysis will be integrated into your site.




Link Building Campaign


Link building goes hand in hand with organic search engine optimization, and is an essential factor used in the site ranking criteria of the search engines. Your site will be submitted to directories specific to your market and directories that are linking to your competitors.




Web Marketing Analytics


You will be provided with online access to the following reports customized to your site and continually updated. Please visit our page on web marketing analytics for a more in-depth description of this service.


Site Overview:

Number of visitors; Average time on site; Top search queries; Top referrers; Pages with most visitors; Top entry pages; Top exit pages.

Navigation Report:

Showing how your visitors interact with your site; Where visitors clicked; Where visitors came from and how they navigated through your site; How much time they spent on each page; What pages they exited your site from; Search engine comparison showing the different behavior patterns; Search referral comparisons.

Keyword Ranking Report:

This report will show your site's position in the major search engines for each of your keywords.

Keyword Analytic Report

: Which keywords are delivering results, and which ones are not. This report determines which keywords are most effective in drawing traffic from your target audience.



Segmentation of Incoming Traffic:

Determines which keywords and referrers are most effective in delivering profitable traffic to your site by segmenting specific criteria.


Ongoing Marketing Strategy Adjustments


Continual monitoring of web marketing analytic information allows us to keep up with the changing trends of your market and provide you with a higher return on internet investment (ROII) by adjusting your marketing strategy as needed.


How long will this take?

The time we need in order to get your site ready is relatively fast for the of amount research and time that goes into each search engine optimization campaign. Thanks to great team work and a specialized work force we can do what it takes in approximately three to four weeks after the keyword research and analysis is approved by you.

Are we there yet?

With organic search engine optimization there are no set time frames, and time frames vary from search engine to search engine. However, in most cases you will start to see a noticeable increase in your traffic within three to four months depending upon the competitiveness of your market. Sometimes it can take as long as nine to twelve months for more competitive keywords.

Fees for organic search engine optimization

Our fees for services are based on the size of your site's campaign. We guarantee our clients a fixed monthly rate for organic search engine optimization services with a one year contract. If you would like more information give us a call or send us an email. We will customize a campaign strategy tailor made to your specifications.


105 Huntsman Court, Summerville SC 29485 • 800.394.3280 • www.aimsearchengineoptimization.com
© Copyright 2007 Ascend Internet Marketing

GO TO THE TOP
© Copyright 2007 Ascend Internet Marketing • 105 Huntsman Court, Summerville SC 29485 • 800.394.3280