Services
::

Paid Search Marketing
Paid Inclusion
vs

PPC

Paid Inclusion is a term often used interchangeably with pay per click (PPC). However, they are separate web marketing techniques. Paid inclusion occurs when a specified amount is paid to a search engine company in order have the pages of your website indexed by that search engine in a short amount of time. While inclusion in the search results is guaranteed with Paid inclusion, your ranking is not.

Pay Per Click is a marketing technique where website advertisers bid on keywords geared toward their target market. Each time an ad is clicked, the advertiser is charged the bid price. With the right strategy and a well managed ad campaign, the advertiser receives a profitable return on internet investment.
Fast… Flexible… Effective Marketing!
Paid search marketing is an advertising model where you pay each time someone clicks on an ad linking to your website. These ads are displayed as sponsored listings on the search engine results page (SERP) and are based on a defined set of keywords or themes relating to your business.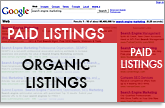 This powerful marketing technique is known by many names, some of which are pay per click (PPC) and paid inclusion. Whichever term you use, a strategically planned paid search marketing campaign will bring targeted traffic to your site quickly.
With power comes responsibility. It is crucial to monitor and maintain your paid search marketing campaign. A well thought out bid management strategy makes the difference between a successful campaign that generates revenue and one that eats up your marketing budget without delivering any results.
This is where we come in! Using a state of the art tracking system and working closely with the search engines, we monitor and manage the returns of each marketing campaign. We provide our clients with an insightful analysis of our findings by reporting visitors' navigation patterns throughout the site, conversion statistics, click fraud monitoring and more, in order to determine the best way to achieve a higher return on internet investment (ROII). This information is delivered to you in an easy to read, detailed report.
Our Paid Search Marketing Services also include...
Ad Campaign Creation


A paid placement ad is tiny, with little room for expression. To say so much in a small space is truly an art. With the right content aimed at your target audience, everything you need to draw them to your site is right there. Remember, good things come in small packages.



Landing Page Optimization


Landing pages play an important role in successful ad campaigns. They form the first impression of your website and can make or break a potential customer's decision to keep exploring. Effective landing pages entice your target audience to delve deeper into your site.



Bid Management


How much do you need to bid in order to get a good return on internet investment? Part of account management is continually monitoring the bidding process so that you run your ad campaign, and it doesn't run you.



Web Marketing Analytics & Conversion Tracking


Conversion tracking is a set of web analytics that determines the effectiveness of a paid ad campaign. It monitors whether your target audience is clicking on your ads and what percentage of clicks lead to sales. It indicates if your paid ad campaign is on the right track or if it needs adjusting, all the while leading you in the direction of a greater return on internet investment (ROII).



Click Fraud Detection


Occasionally a PPC campaign will be sabotaged by a competitor who continually clicks on your ad with the intent of draining your budget. Click by click, we monitor your ad campaign and protect your budget.
How long will all of this take?
The time to prepare, research and write your ad campaign takes approximately three to four weeks. Once the ads are launched, the results are almost immediate.
In order to maintain a successful bid management strategy your site is continually monitored and adjusted to increase your click-through rate (CTR) with the bottom line being a higher ROII. A successful ad campaign is not a one time push, but an ongoing process that requires continual monitoring.
Fees for Paid Search Marketing Services
We charge a flat monthly management fee to develop and maintain your paid search marketing campaign. The cost is based upon the size of the campaign and requires a minimum contract commitment of six months. There are no additional set up fees for the management of your site.
The click budget for your paid search marketing campaign is billed separately. Concerned about costs? Don't be. We will work together to set your budget in advance. We will not inflate your budget with any mark ups or hidden fees. You are always in complete control of how much, how often and when.


105 Huntsman Court, Summerville SC 29485 • 800.394.3280 • www.aimsearchengineoptimization.com
© Copyright 2007 Ascend Internet Marketing

GO TO THE TOP
© Copyright 2007 Ascend Internet Marketing • 105 Huntsman Court, Summerville SC 29485 • 800.394.3280